"Blooming Paris" - Weisiman 2012 spring and summer new release
March 14, 2019
November 6, the city's first fashion brand image of women --- WSM, "bloom in Paris" in the romantic city of Zhuhai gesture, held a grand 2012 spring and summer new conference, release 2012 spring and summer trends. Conference site star-studded, celebrities gathered. Hundreds of new and old customers gathered together to share the festival, and several authoritative media came to cover the news. Senior leaders such as Wei Lin, vice chairman of China National Garment Association and Huang Xiaojie, chief investment officer of Jiuding Investment Co., Ltd. were also invited to attend.

The conference by the French women's brand WSM hand in hand the top planning team together to create a visual feast for the guests at the scene in full of art and modern atmosphere feel the French fashion art. The conference stage layout to create a thick French style, and changing the French architecture, street view, cafes, art galleries video screen, leading us all into the WSM brand style birthplace --- Paris Marais area, feel French classical and avant-garde, art and fashion, elegant and modern, romantic and free.

Outstanding fantastic model interpretation of the French spring and summer 2012 full of French chic charm, Disco night, romantic bohemian, dreamland, passion Hawaii, 70's fairy tale ... ... each theme series are all to convey the WSM brand is determined to create for urban women The elegant, confident, romantic and modern brand new image, delivering a positive and optimistic attitude to life, advocating fashionable art life, meeting urban women's weekly work, leisure weekends and urban PARTY.

"WSM is not simply a symbol of a fashion brand, she is more in the performance of an elegant, modern attitude to life, through the delicate combination of French taste, express the independent personality and values ​​of urban women. Courage to find self and Charm, changing life with an image, knowing how to love yourself, enjoying the beauty of life, the world changes for you. "Domi CHIN, Head of Brand Design, WSM said.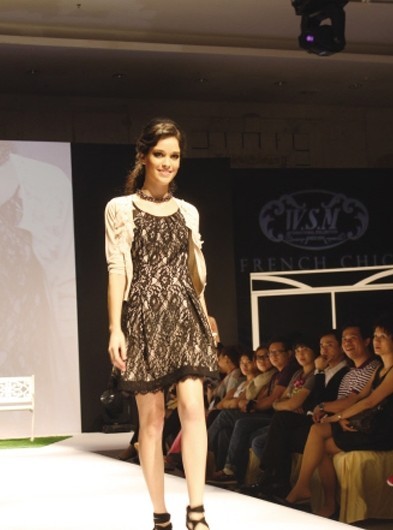 Wei Siman from the Paris Marais district, blending the French fashion elegance, romance and sophistication of Parisian women, modern. With its elegant interpretations of French tastes, it has become an internationally renowned women's brand, becoming a refined and elegant representative and active in the world fashion arena. Paris Marais district is located on the right bank of the Seine, between the three districts and four districts of Paris, a long history, in 1815, Ma Lai has become the middle class in Paris. Today's Marais district is an area full of pleasure, here, full of historical charm of the old streets, young artists personalized shops. The colorful cafes, bars, bookstores, the former residence of Hugo and the 17th century Picasso Museum of Fine Arts combine classicism with avant-garde to create a perfect blend of living, modernism and modernity.

Weisiman brand since 1998 successfully entered the Chinese market, has become more than 300 franchise stores, marketing network all over the country more than 100 large and medium-sized cities of well-known brands, and has hired Wen Bixia, Li Xiang, Gigi as brand ambassador, and more Times won the "most valuable brand", "the most brand competitive brand", "brand culture innovation award" and so on.

In 2011, Weismann reloaded to a new image in Guangzhou, is committed to become the first urban fashion image brand, for women to create a more elegant, more confident, more modern, more romantic image.

Introduction

The Military cap, like so many other hats, was born of necessity and has regained popularity due to its functional and fashionable style. There are many versions of the military cap, but they all have the same basic structure. They are meant to be worn fitted and fairly close to the crown of the head. They may be any color or design, but neutral colors and olive green are the most traditional hues.
Some military caps have an ultra-stiff top, but must are somewhat slouchy and tend to wrinkle on the sides and top. This is part of the trend. A well-worn cap may fray on the visor and sides of the cap from constant tugging on and off the head. Likewise, vintage or "destroyed" military caps may be purchased for those who prefer a more rugged look.
Beginning in the 17th century, many soldiers replaced unwieldy helmets with more comfortable hats. Plumage and accessories were often added. Feathers and badges or pins adorned the military cap, as did the necessary buttons, tighteners, or fasteners.

Military caps now often have adjustable straps in the back. These straps allow for a variety of head sizes to fit into the cap. A button or other fastener may also be used to tighten or loosen the fit of the military cap. Occasionally buttons, zippers, or pockets may be added to the cap for aesthetic reasons, though they often don`t serve any functional purpose.

A military cap is generally made of a polyester. A wool, cotton, or nylon blend may also be used. Some such caps may be all wool, and are meant to be worn in the winter. Some military caps come with fleece ear covers, which are certainly functional, but have also become a trend. When not warming up the wearer`s ears, the flaps may be tied to the side of the cap for a funky look.

The military cap is unisex. Men and women both wear the cap style, though many women`s styles are more ornately decorated. Designs and patterns are popular, as are bright colors. Those interested in the vintage look, however, will likely stick with a plain, neutrally hued military cap.
Army Camouflage Hats & Caps

Army camouflage hats and caps are the same great hats, caps, boonie hats, and jungle hats that we already sell but in camouflage colors. You will find military vintage fatigue caps, camouflage boonie hats, camouflage ranger caps, and camouflage jungle hats just to name a few in our camouflage category. For all the camouflage enthusiasts in the world this category was made for you, to easily find all the great products offered in our hats category in camouflage colors. Camouflage has additional benefits because camouflage is a method of cryptic or concealing coloration that allows an otherwise visible organism or object to remain indiscernible from the surrounding environment through deception. Army Camouflage Hats & Caps are also known as fitted baseball visor, military jungle clothing, army gear, etc. Army Camouflage Hats & Caps are commonly misspelled as camoflage bonee, camo jungl boonie bandanna, etc.
Military Adjustable Caps

Military adjustable caps are made in a one-size-fits-most form, with an adjustment strap in the back. Unlike caps that come in standard hat sizes. Adjustable caps are made of many types of material and shaped in various styles for different purposes. The advantage of adjustable caps is that you dont have to worry about the hat shrinking over time and you can share the cap with any one you would like without worrying about the other persons head size. Adjustable caps are a great fashion accessory and also provide great sun protection. In our military adjustable caps section you will find military themed hats which can include military colors and military lettering and emblems. Military Adjustable Caps are also known as black baseball hats, vintage pink freshman camouflage attire, etc. Military Adjustable Caps are commonly misspelled as camo and camoflauge head wears, etc.
Military Fatigue Caps
Fatigue caps also known as a patrol cap were the standard headgear for soldiers fighting the Vietnam War in the early 1960s. We offer both official military issued fatigue caps and exact military replicas. The fatigue cap was constructed like a Baseball cap with a brim to protect the eyes from the sun. The fatigue cap offers style and comfort when worn, with properties that cant be beat. The fatigue cap is also known as fatigue baseball caps, field caps, patrol caps, BDU caps. All our fatigue caps are brand new unless otherwise stated. The hats are made from special material to give them a classic look not found in non-fatigue caps. Fatigue caps are meant to look more elegant-seeming. Demand and acceptance of fatigue caps by the mainstream has increased dramatically since the early 1990s, due in part to increased visibility, as fatigue clothing was increasingly worn by celebrities. Fatigue caps are especially popular because they are known for their good quality, fine material, style, and uniqueness. GalaxyArmyNavy is a great place to find all your fatigue needs. Military Fatigue Caps are also known as army patrol hats, wholesale outerwear attire, head wear attire, etc. Military Fatigue Caps are commonly misspelled as camo headgears, etc.
Military Street Caps

Military street caps are different then our military caps due to the fact that they contain side vents to allow heat to be released and to bring cool air in. A cap is a tight-fitting headdress used for fashion purposes and to serve as a cover of protection from the sun and other objects. Military style urban street caps generally have a fashionable 5 panel construction and contain 2 side vents and an adjustable plastic buckle on the back of the hat. They are designed in a one size fits most form unless otherwise stated. They are worn by both men and women, old and young. Military Street Caps are also known as urbanized baseball clothing, city streets hats, military hats, army attire, etc. Military Street Caps are commonly misspelled as camo gear, etc.

Military cap

Military cap, Army cap, Militar cap, Military hat, Fashion military cap, Flat top cap

Yiwu Changyue import & export Co.,ltd. , http://www.chsportwear.com